The company "Pirogoviy Dvorik" is glad to offer to you a trip around the gastronomic capitals of Europe.
We always have a great range of fresh and good quality products at your service: pies, baking, culinary dishes and light desserts, which you can easily take away to your office, to order them with our delivery or to taste them just right on the territory of one of our cozy café-bakeries.
"Pirogoviy Dvorik" started its history from 2005. Exactly in this fifth year of the third millennium the first our café was opened. We tried to transmit the atmosphere of Copenhagen – a beautiful capital of Denmark.
The object of our company is to provide home-made quality production within walking distance and with affordable prices.
"Pirogoviy Dvorik" appreciates and respects its staff, leads fair policy, provides the information about the ingredients, which their production consists of in open access and doesn't neglect any possibility to communicate with their guests. We are responsible to our consumers and business partners and provide a great choice of nourishing and sweet pies, home-baked products, confectioneries and full collection of culinary dishes.
Due to the keeping European traditions of stability and good quality of the production, good rumor about "Pirogoviy Dvorik" quickly spreaded all over the city and even outside it. It had become evident, that for all citizens and guests of our cultural capital it was insufficient to have just one café-bakery. That's why "Pirogoviy Dvorik", which hadn't planned to open the chain, with a great pleasure restructured the company's plans to become more convenient for its guests.
Thanks to you, our dear guests, today "Pirogoviy Dvorik" represents a chain of 26 café-bakeries, located in all districts of Saint-Petersburg. At your disposal we have a quick delivery service and retail trade. Each of our cafés is a new history, new town and a new "adventure".
Moreover, "Pirogoviy Dvorik" differs from the range of other commercial institutes, having an active position in items, regarding the social responsibility. According to our possibilities, we try to render assistance to charity organizations and funds, which contact us. Also, we present a chance to make a small contribution to the general weal for our guests.
We are waiting for you in our chain of café-bakeries with a smile around our lips and with love in our hearts.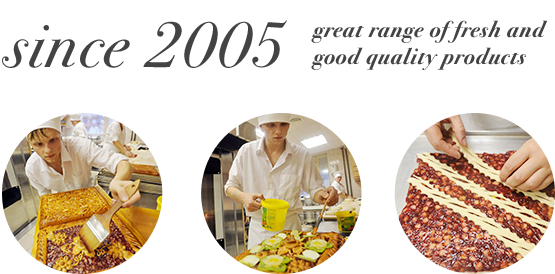 CAT PLATO – THE SYMBOL OF STABILITY, COZINESS AND HOSPITALITY!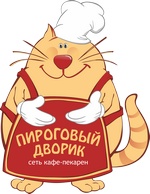 One day in September on Kollontai street 24/2, surrounded by the rustling of golden foliage, the final touches to the opening ceremony of the first café-bakery "Pirogoviy Dvorik" have been made.
X hour was nearing and the audience stopped moving pending a special guest – Plato. It was an attractive and charming red male cat, who had an important mission: in accordance with an old Russian tradition he had to be the first, who'd have done a step through the door threshold and had to bring good luck and coziness in café "Pirogoviy Dvorik".
As soon as the ceremonial speech was ended and the cheerful shouts of our guests and staff went down, the cat named Plato headed straight to new establishment.
After passing through the door threshold of "Pirogoviy Dvorik" and looking around, Plato went straight to the window sill.
After completing of his duty, he stretched imposingly and fell in a sweet dream in one minute. The staff and the first guests of "Pirogoviy Dvorik" imbued with good feelings to this sniffing nubble of warmth and cozyness at once, and they named him affectionately "Platosha".
Rumor about the downy owner of café-bakery spreaded around the city with a fast pace and in course of time Plato became the symbol of our establishment.
And over the years cat Plato accompanies our working days and gives us the pleasure of meeting with our customers.